I promised pics of my vacation for those who may be interested. However, I took so many pictures that I have to divide my posts by state. I'm starting with New Mexico, then proceeding with colorful Colorado and finally Texas. We also passed through the panhandle of Oklahoma (all 30 some odd miles of it) but it was my turn at the wheel so no pictures from that state.

This is not dial up friendly so consider yourself warned. :-)






One of the main reasons I decided to accompany my parents and uncles on this excursion was the opportunity to see the variety of landscapes that make up the American southwest. In other words...desert? I'm so there! Rolling hills? Totally! Mountains? Sign me up!

I think it's safe to say that 85% of all my pictures involved some type of interesting rock formation, or hill, or roadside oddity. I loved the vastness of the road in front of us with the mountains in the distance. There was netting to protect the roadside near the cliffs from falling rock. We stopped at a rest stop on the Rio Grande (the same river that flows through south Texas) and it was filled with rafters. I'm used to associating that river with Border Patrol agents, pollution of all sorts, and Mexico that it's refreshing to view it an entirely different context. And lastly, the northern portion of New Mexico also contained the most harrowing aspect of the trip. A long, winding two lane road, with very little shoulder, through the mountains and trees to visit the site of the Vietnam Veterans Memorial State Park. The view was breathtaking but no one wanted to take the road back. Thankfully we didn't.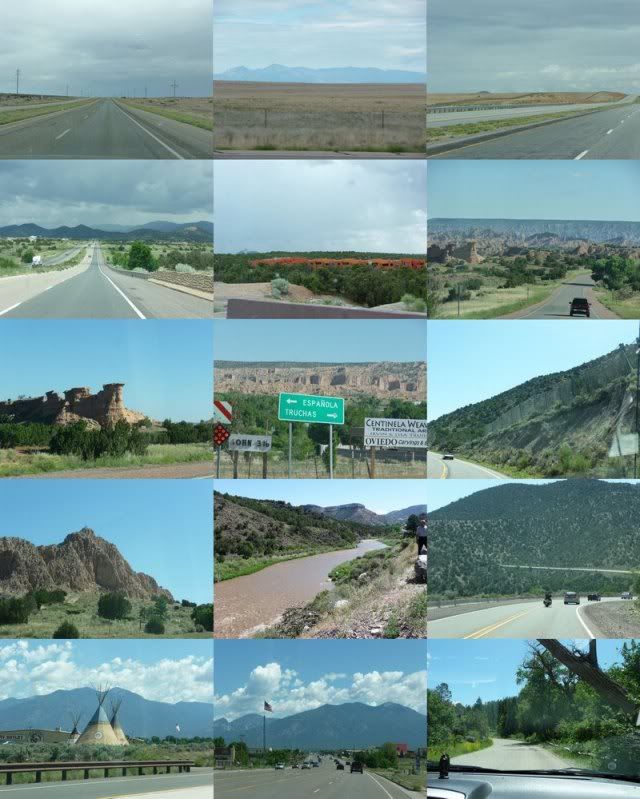 *
We spent our first night in Roswell, New Mexico, 628 miles from our starting point and after 15 hours on the road. This was the one place I wanted to see. I couldn't wait to get out and take a look around, especially with their annual UFO conference being held.
Downtown was filled with people milling out of the museum and other events. The street lights were decorated like aliens, complete with eyes and what looked like feather boas. I kept trying to get a photograph but they were either too blury or vehicles got in the way. I did manage to get one but it wasn't as elaborate as the ones I'd seen in downtown.
Finding a hotel room as a problem. We went to six different hotels and they were all booked solid. People were getting cranky and it was beginning to look like we might have to keep going north and find boarding in the next town. Eventually a hotel clerk refered us to a hotel that had just opened up and was located off of the main thoroughfare. My mom was less then enamored with the $200 a night price tag but hey, beggers can't be choosers.
At dinner it was evident that we weren't heading downtown. My uncles and aunts had been there before, so no great loss for them. It was getting dark and my dad didn't want to drive around in a strange town at night. He also wasn't crazy about my doing so and our hotel was too far from downtown to walk. Needless to say I was extremely disappointed. However, we both figured that we had to pass by Roswell on our return trip and that was when I'd get to do my tourist thing.
On our way out of Roswell the following morning, I had my dad pull into the Walmart so that I could photograph the paintings on the store walls. I love that Roswell has that and they resemble the mural that was in the Crashdown Cafe from
Roswell
.
In the end, we didn't go back to Roswell. Our final night in Denver, our final stop, my uncles announced that we'd be taking an alternate route home. We'd be traveling through southeastern Colorado, the Oklahoma panhandle and the panhandle of Texas. I normally would have been very excited at the news but the fact that I didn't get to really visit Roswell was a major downer. We were free to retrace our steps home but understandably, my dad didn't want to make that trip through unfamiliar terrain.
So, I went to Roswell and I got pictures of their Walmart. Better luck next time.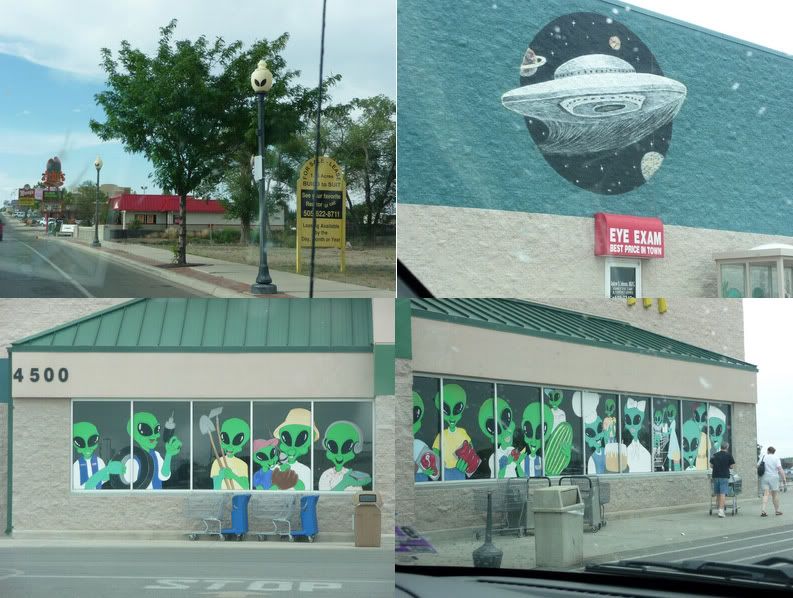 OK, so you're probably wondering why I'd take a picture of my breakfast. Well, how could I be in Roswell and not do an homage to my favorite
Tabasco-loving teenage aliens
from
Roswell
.
Our second night was spent in Santa Fe, the capital of New Mexico. We spent two nights there. Our first day we walked around downtown and window shopped. Lots of jewelry and lots of pottery. We also milled around an outdoor artisans' market. It was the fourth of July and we watched the fireworks from our hotel balcony. Our second day was the best. We visited a few churches near downtown and went on a "train to nowhere" as my dad put it.
The caretaker to the church told us he had to remove the floral offerings to the
Virgen
every evening because they get stolen. He brings them back every morning.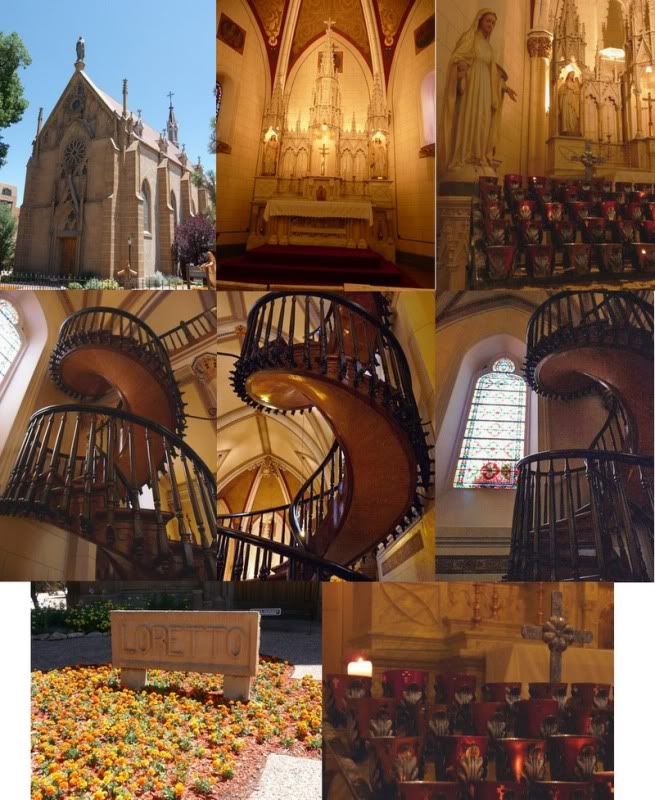 The Loretto chapel, located in downtown Santa Fe. Also home to the "miraculous" staircase that was built by a mysterious carpenter and has no visible means of support.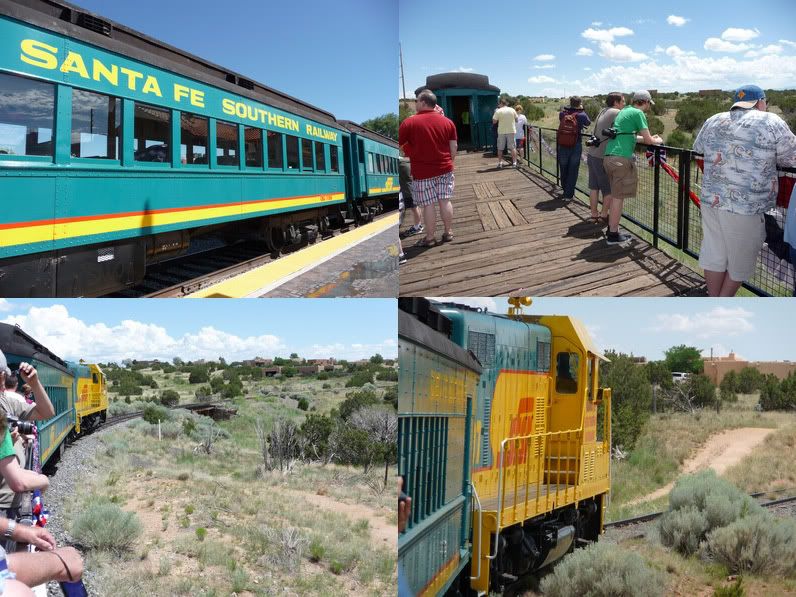 My dad's "train to nowhere" takes visitors on a two hour trip to the outskirts of Santa Fe, stops, and then backs up to the station. You can go out to the open car and take in the scenery. There's nothing to see except land and a few isolated houses but I enjoyed it.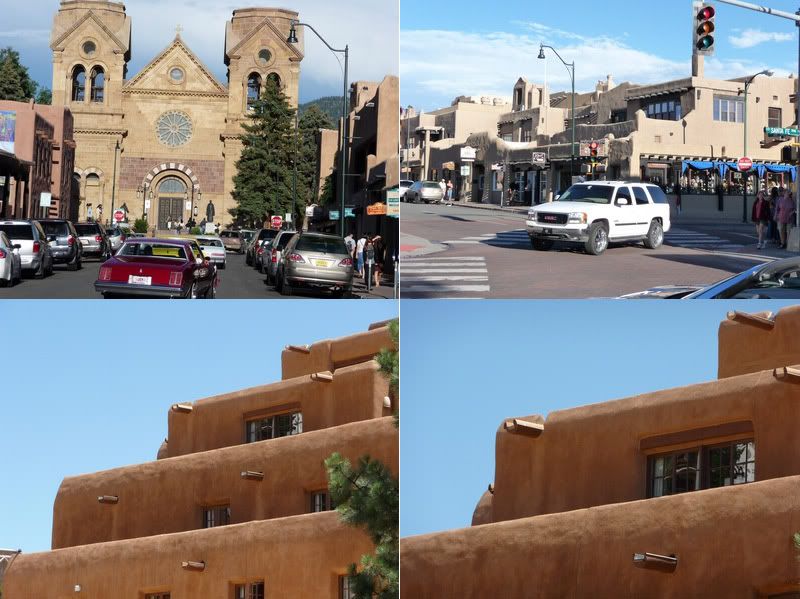 Downtown Santa Fe. I kept want to see the state capitol and I was always on the look out for the dome. When I mentioned this to one of my uncles he said Santa Fe didn't have a traditional domed capitol but that it looked more like an ordinary building. To the best of my knowledge we never went by it. When my uncle said "ordinary" building he meant it looked like the numerous adobe like buildings that dominate the city. In the beginning, the proliferation of this style was rather exotic but it got old really fast. Nearly everything in the city had to adhere to this style, whether it was a fast food restaurant, a hotel, or a business.
On our final day in Santa Fe we headed north towards Taos and the
Santuario de Chimayo
in the Sangre de Cristo mountains. A small room in the chapel is the home to medicinal sand. I didn't enter the room but from a small hole in the ground people are allowed to scoop up the sand and either rub it on those people seeking a cure or take some home.
The grounds of the chapel.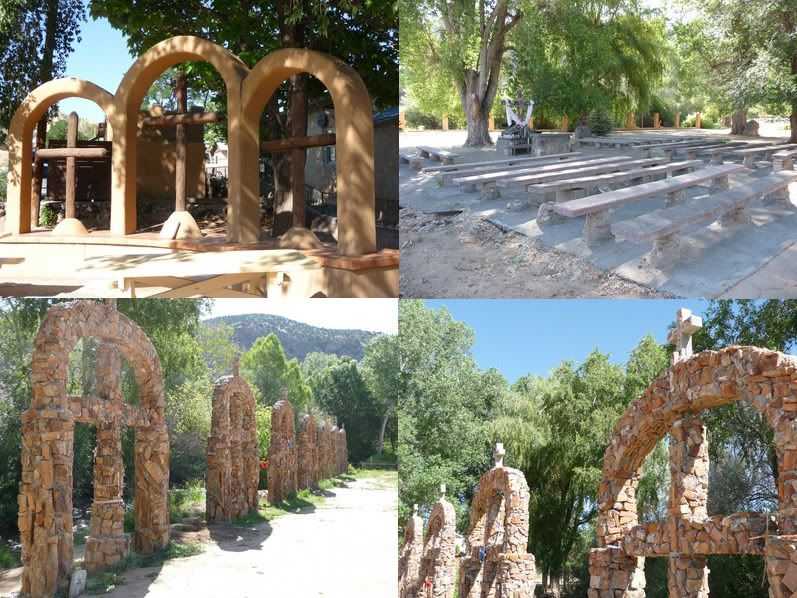 The grounds of the chapel.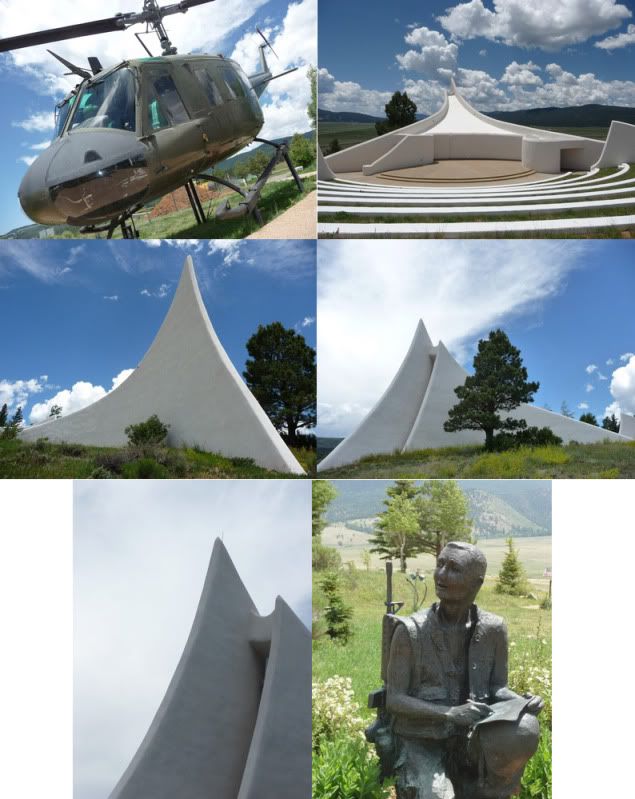 Our last stop in New Mexico was the Vietnam Veterans Memorial State Park in Angel Fire. After 40 minutes of slow travel on a steep and winding road we finally arrived. It was one of the most beautiful stops of the trip. It's in the middle of nowhere, surrounded by this large valley and mountains. The architecture is stark but memorable. The memorial was originally built by Dr. Victor Westphall, who lost his son in Vietnam. It eventually became a memorial site honoring all who lost their lives during the war. One of my uncles, who is a Vietnam veteran, made it a point to stop here. It was lonely up there but it was fitting. The wind was howling and and site so large that it didn't feel like there was anyone else around.