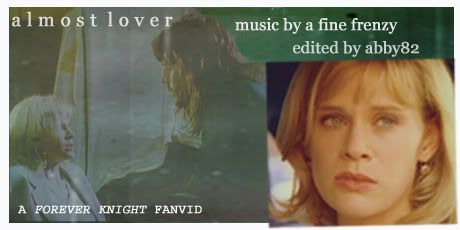 Title: Almost Lover
Artist: A Fine Frenzy
Fandom: Forever Knight
Character(s): Tracy Vetter, Tracy/Vachon
Vidder: abby82
Download: Sendspace (20MB, WMV) or YouTube
.
Length: 1:47
Summary: "You're gone and I'm haunted...did I make it that easy for you to walk in and out of my life?"
Notes:

Post "Ashes to Ashes" vid. LaCroix fulfilled Nick's request that Tracy believe Vachon skipped town rather than die as a result of Divia's attack.