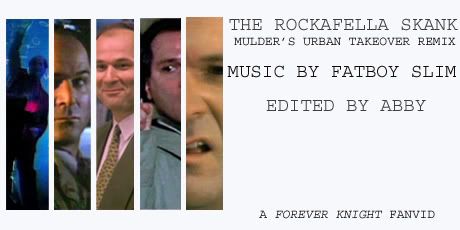 Title: The Rockafella Skank (Mulder's Urban Takeover Remix)
Artist: Fatboy Slim
Fandom: Forever Knight
Vidder: abby82
Download: Sendspace (44MB, WMV) or YouTube
.
Length: 3:46
Summary: The Ego and the Id; Schanke celebration video.
Notes: This is actually my first FK fan vid but the second to be completed. It's a long song and I've already trimmed out 2 minutes but I fell it's still about 40 seconds too long. Hopefully in the future I'll be able to trim down the song and the vid some more. I'd hate for Schank to overstay his welcome.