I whipped up a fic banner for my Forever Knight/Smallville crossover fic "What Would Happen". There's actually two versions. For the longest time I tried maniping an image of Tom Welling as Clark Kent alongside an image I have of Catherine Disher from a guest stint on Friday the 13th: The Series. However that never quite turned out well. Then Smallville kindly obliged by having Welling's Clark dress up as his future iconic self in the alternate future episode "Apocalypse". It would be criminal to have a fic with Clark and not have his handsome mug on the cover in some way. However there's still something not quite right about the positioning of his image. Unfortunately photoshop has decided to turn against me and for some reason I can't move any of my layers. Oh well, later when I'm not so tired I'll at least get the text off his face, lol. For now this'll do. That's why I'm primarily sticking to the Clark-less cover.

I've already added one to the appropriate post but I thought I'd give them their own post as well.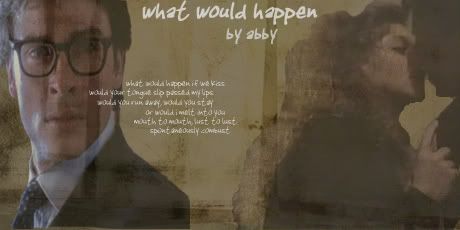 Banner Credits
Textures created by
vered
Image of Catherine Disher is from
Friday the 13th: The Series
1x21 "Double Exposure" (1988)
Image of Tom Welling in alternate banner is from
Smallville
7x18 "Apocalypse" (2008)
capped by me
Lyrics from Meredith Brooks' "What Would Happen"